Wanting to lose weight
but you also love to snack a little? No problem! All you have to do is get used to eating a snack food that won't undo all of your hard work to
stay in shape
. For decades, ladies have utilized popcorn as that very snack. For this reason, we are going to share with you the Best Popcorn for Weight Loss!
The popcorn we are going to share with you today has:
No artificial preservatives, flavors or dyes

0 grams trans fat

Is 100% Whole Grain

Uses only Non-GMO Corn

No added sugar

And no high fructose corn syrup
Best Popcorn for Weight Loss – Get Snacking in Seconds!
Now we do in fact pop our own popcorn all the time (we'll get into those details in another article promise!); however, today's recommendation is an instant popcorn item. All you will have to do is grab a package out of the box, head to your microwave and heat for between 2 minutes and 45 seconds to 3 minutes.
Simple! Now we stumbled across this box of popcorn after researching the Popcorn Diet. This old food trend has been making its way back into mainstream as summer inches ever closer. Some girls popped their own popcorn on a stove and others would just microwave there's in order to save time due to school or work constraints.
All of us this jumpstarted our search to find a quick popcorn solution. And boy did we find it.
The Only Popcorn Brand You'll Ever Need… Pop Secret Homestyle Butter Popcorn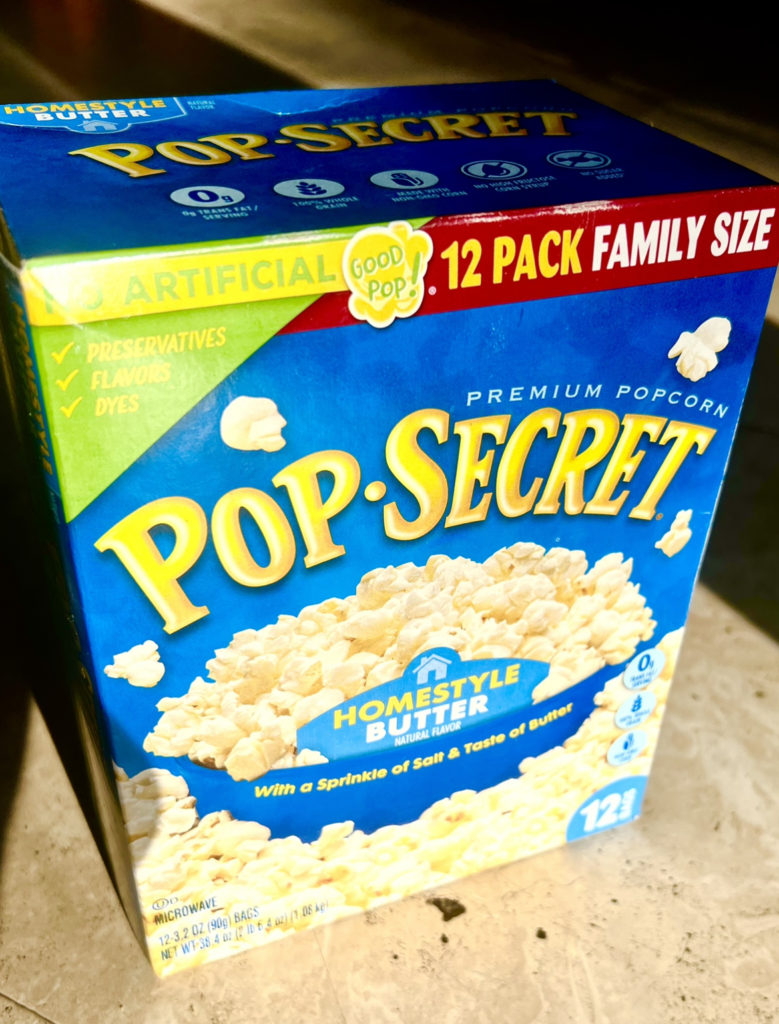 We tried out Pop Secret's Homestyle Popcorn and not only did we lose weight but we never once felt guilty eating it! Why not?
First of all, the carbs are REALLY low. Plus, one WHOLE bag is around 90 freaking calories! Yes, that's it. Each bag pops about 3 cups and each cup is estimated to be around 30 calories. 3 times 30 gets you 90. Even if you manage to pop all 3.5 cups of popcorn that's still only roughly 105 calories. Thank you food GAWDS lol.
Lastly, what also makes this popcorn product more superior is the fact that it keeps butter and salt to a minimum. This is important because those are the ingredients that can really take this particular snack from healthy to just as bad as greasy potato chips. Pop Secret describes Homestyle as popcorn "with a sprinkle of salt and taste of butter."
This popcorn even though it has way less salt and butter than most movie theater versions; still tastes REALLY good and it helps you feel full. Therefore, if you're in the market for a snack that is very guilt-free try grabbing a box of Pop Secret!

**Want Even More Fashion as well as Celebrity Style Sighting News, Insights as well as Trends? Download Our New Shiny App! Click HERE**
Thoughts on Best Popcorn for Weight Loss -90 Calorie Snack in 3 Minutes!? Well let's connect then! Join the discussion and talk all things fashion as well as celebrity style sighting related with us by dropping a comment like its hot down low. Or also hit us up on our Facebook, Instagram (1966mag), Tumblr, Pinterest or tweet us @1966magazine.