Trends may come and go, but the most requested makeup look regardless of the season or occasion is beautiful contoured skin. The beauty of this look is the way it is able to remold and structure the face without needing to consult with a cosmetic surgeon!
Right now we are Loving Blackup's new range of contouring sticks which is revolutionising contouring with it's simple to use double-ended stick. This product blends seamlessly with your skin and its buildable cream texture with a powdery finish allows you to sculpt your face  & features where needed. In celebration of the new 'Beauty' March issue, we are calling this one of our top easy-to-use, must have products which can help anyone create a play of light and shadow worthy of a make-up pro! Move over Mario Dedivanovic!
Here's Some hot tips from professional Make-up artists Ross Andrewartha and Debbie Finnegan on how to ge the perfect contour!
Highlight:
start with the lighter are first which is underneath the eyes, middle of the forehead and slightly towards the temple, down the nose, cupid bow and on the chin. This will really help to brighten, lighten and enhance these areas.
Contour:
Contour where the sun will naturally hit – on the sides of your forehead, around the hair line, down the nose either side of the highlighted section, which makes the nose seem more slimmer and sculpted. You may also choose to bring a contour down your jawline if you have excess skin there.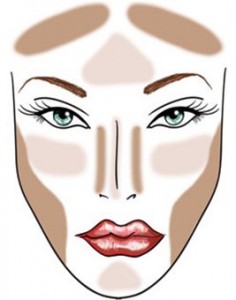 Common mistakes:
Look at your profile – When creating a contoured look, DO NOT forget to look at all angles of your face!
Blend, Blend, Blend! – A big mistake is having the lines looking too strong! Make sure lines are blended with a good brush!
Find the right Colour – It helps to get the right product and shade for the perfect finish. highlight with a product that is one or two shades lighter on the lighter areas of your skin, that way you're just taking the skin up a little notch or two. Then look at the deeper tones of your skin and go a shade or two deeper for the contour.
Keep it simple – Keep the contour simple and subtle and make sure the skin colour compliments your skin
Get your Blackup contouring stick here