Whether it is worn by Hollywood celebrities or proudly showcased on social networks, African fashion is a booming industry that has seen gradual growth and popularity within the past couple of years. On Instagram, the hashtag #africanfashion is highly active with over 1.7 million posts. In Canada, events like African Fashion Week Toronto are helping to shine a light on African creativity by showcasing the work of designers and other professionals within the fashion space especially those that are inspired by continent. I have definitely got my eyes wide open and I am on the lookout for both established designers and rising talent. Here is a list of some African fashion brands and a marketplace in Canada that are worth watching.
Ayinke Fashion Inc.
Building a corporate closet has just gotten easier thanks to Ayinke Fashion Inc. Whether your style is office casual, classy or a bit more sophisticated, you will find something to love at Ayinke. Fall in love with their chic clothing and budget-friendly prices.
Visit Website | Follow on Instagram
Kaela Kay
Find your inner print diva with classy, sophisticated ready to wear or custom-made apparel for women from Kaela Kay. Visit their newly opened store in the heart of the Greater Toronto Area (GTA) at 857 Wilsone Avenue, North York.
Visit Website | Follow on Instagram
Ofuure
Established in 2015, Ofuure has been designing versatile pieces in African prints and bold patterns for the everyday Queen. The name is derived from "Ofure" which means "It is well" from the language in Edo state, Nigeria.
Visit Website | Follow on Instagram
Rahyma
Featuring a dynamic range of high-low tops, maxi dresses, jackets and jumpsuits, Rahyma's clothing is a conversation starter on all things bold, beautiful and vibrant in African fashion. You will love her distinctively African looks for everyday styling.
Visit Website | Follow on Instagram
Anisa by Tabia Charles
The brand believes in being your own kind of beautiful with colourful silhouettes made out of exclusive prints that compliment every body shape and size. Anisa by Tabia Charles is using fashion to help women connect with their inner goddess while looking effortlessly chic.
Visit Website | Follow on Instagram
Precious Threads by Abiola
Designed for the style and silhouette of the modern woman, Precious Threads by Abiola takes into consideration luxury, femininity and quality. Abiola draws her inspiration from clean lines and the structure associated with modern, contemporary architecture –  a trait that highly reflects her Nigerian values.
Visit Website | Follow on Instagram
Zeena Kay
Based in Kitchener, Ontario Zeena Kay's designs carry a unique Afro-western flare. She combines her Cameroonian roots with a love for couture and high-end fashion to create one-of-a-kind pieces that make you look and feel good.
Visit Website | Follow on Instagram
Kwesiya
Founded in 2013, Kwesiya ia sustainable fashion brand based in Toronto that inspires women to embrace bold colours and playful prints rather than setting for the status quo when it comes to personal style choices.
Visit Website | Follow on Instagram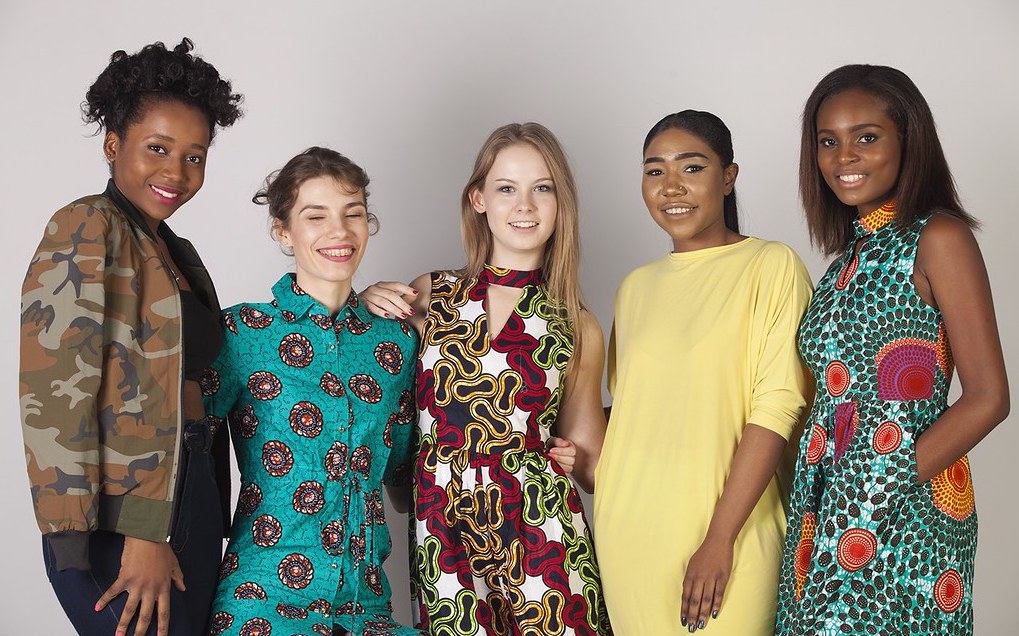 Image source
Kuwala
More of a marketplace, Kuwala was started by two women who wanted to create an international platform for African designers to showcase and sell their designs. At Kuwala, you can shop carefully curated piece sourced from socially responsible, African-inspired fashion brands.
Visit Website | Follow on Instagram
Beni Boo
With a motto known as "well made, well priced," Beni Boo is dressing up some of the most fashionable women in Toronto. Their outfits will help you uncover your perfect fit in a way that highlights your best features without compromising on your personal sense of style. Shop the biggest African fashion trends at affordable prices.
Visit Website | Follow on Instagram
Kyle Gervacy
This brand is owned and operated by Toronto-based, St. Lucian designer Kadeem Faustin. It is a fusion of African and Asian influences that showcases the design aesthetics that the brand has come to be known for. Visit the website to shop high fashion statement pieces for men.
Visit Website | Follow on Instagram
Papaya & Co
It all started with a demand for minimalist African fashion goods and not finding any so Papaya & Co was born to fill the gap. The brand has a range of products to choose from such as kitchen aprons, tote bags and more. Their African print ties and pocket squares for men are the perfect accessory to complement any formal outfit.
Visit Website | Follow on Instagram
Bohten
Bohten is an eco-luxury eyewear line that uses use reclaimed materials for manufacturing their eyeglasses.  CEO, Nana Boateng Osei draws inspiration not only from his love for nature but also from his Ghanaian roots and late grandfather Andrew Hanson Osei, who was Ghana's first land surveyor in the 60s.
Visit Website | Follow on Instagram
Kejeo Designs
Kejeo is a word in Mina language from Togo and Benin in West Africa. It means "something that looks good on you." Truly so, Kejeo designs are created with beauty in mind and to suit the needs of the wearer. All designs are handmade and carefully sewn in Benin with only premium quality African print fabrics.
Visit Website | Follow on Instagram
Ace Kouture
Aiming to be the ace in African fashion in Canada and a pace setter in the industry, Ace Kouture creates contemporary, trendy looks from African print textiles. You will love this brand if you are not afraid of injecting colours and prints into your daily wear. Find out more information about what they have to offer online.
Visit Website | Follow on Instagram
Did you enjoy this post? Then SUBSCRIBE HERE to be in the know of my other posts!
What do you think of the wide selection  of brands and are there any that I forgot to add?