Estée Lauder has collaborated with Duro Olowu, Nigerian-born, British fashion designer on a limited edition make-up collection that's both bold and beautiful. Olowu describes the collection that was launched at the beginning of the month as"..ageless, glowing makeup for all skin tones."  As illustrated, packaging for the collection is reminiscent of his design aesthetic which involves the clash of colours, patterns and textures he is known for. It is clear to see that the designer didn't just start with a blank canvas but has drawn inspiration from his past collections and the vibrant women who wear his clothing. One them would turn out to be Michelle Obama who has wore a few of his creations frequently, making him known all around the world.
In speaking with British Vogue Beauty Editor Jessica Diner for their August 2019 edition, Olowu continues, "Whether you're going out in a full makeup look or just a sweep of blush, my hope is that women will feel confident however they decide to wear these products."

Image source
The Estée Lauder X Duro Olowu campaign videos feature supermodel Anok Yai wearing a pigmented shimmer eyeshadow and a bright lipstick.  At best, this make-up collection mde up predominantly of lipsticks and eyeshadows celebrates the woman's individuality and freedom of expression through timeliness style.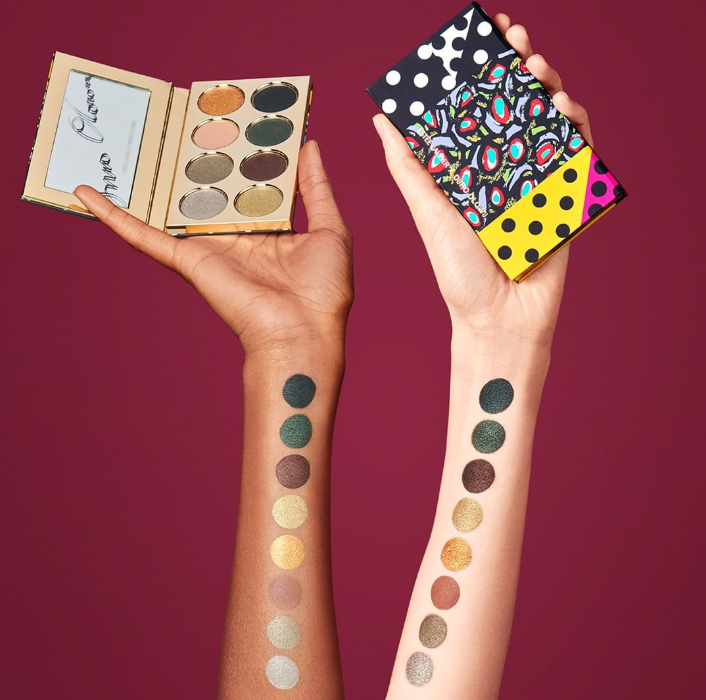 Image source
If you are intrigued by the make-up or the designer and would like to know a little bit more about the process that went into the making of this collection, simply watch the promotional video below as Duro Olowu himself narrates his creative process.
The entire Estée Lauder X Duro Olowu make-up collection is now available for sale at Estee Lauder's website with prices as low as under $50. If you are a beauty geek, you definitely want to check this out as it will not last for long at all. I personally love two shades of creamy lipstick and the colour pallete for the metallic eyeshadows.
Did you enjoy this post? Then SUBSCRIBE HERE to be in the know of my other posts!
What do you think about the collaboration on this limited edition make-up collection?