Washing your braids at least every two weeks is a good routine to have in place for super fresh and clean hair. However, choosing the right frequency and method for washing your braids can be a tricky ordeal especially if you are concerned about how they are going to look afterwards. Many women choose braids as a protective style because it is low maintenance and single braids extensions once installed in the hair can last up to about three to four months. However, during that time, it recommended that you wash the hair at least every two weeks to prevent dirt from building up on the scalp and roots of their hair. Also, all that build up of dirt and dust can also make the hair smell so it is important to always give your hair a refresh. If you are thinking that a bi-weekly wash is too much maintenance, try at least once a month. In this post, I am going to detail how I wash my braids without ruining them or making them frizzy using OGX Shea Soft and Smooth shampoo and conditioner.
Method One
First of all, you want to begin by choosing a good shampoo that suds really well and can act as a clarifying toner to remove all the dirt from your strands. In this case, I adore shea butter products and so I tried out the Shea Soft and Smooth shampoo by OGX. It is creamy with a decadent aroma that will leave your hair clean and smelling fresh. You can give it a try too and I am sure you will love the results. Mix equal parts of shampoo and water in a spray bottle that has a spritz directly on the scalp making sure to drench your entire roots. Ensure that the knot where your own hair meets the braid extension is completely covered in the shampoo mixture.The reason you want to do this is because that is where the dust and dirt particles usually get trapped in the hair.  Let the hair sit for 10-15 minutes allowing and then wipe your scalp and hair down with a damp towel. Apply the conditioner as a leave-in in the same manner and allow to air dry.
Method Two
This method is a lot more hands-on and so be prepared to douse your hair under the shower as well. If you do not have a spray bottle, you can do things the old fashioned way which is just as effective and use your fingers as an applicator. Apply a generous amount into the palm of your hand and use your fingers to rub the shampoo into your scalp. Be careful to massage the shampoo into the braids in order to dislodge the dirt. Pretend like you are giving your head a scalp massage and run your fingers vigorously through the roots where hair meets skin. Doing this will help prevent dandruff and the building up of dirt. Massage for 5-10 minutes and then braids under running water until all the soap suds are completely gone. Apply the conditioner in the same manner, rinse the hair and towel dry.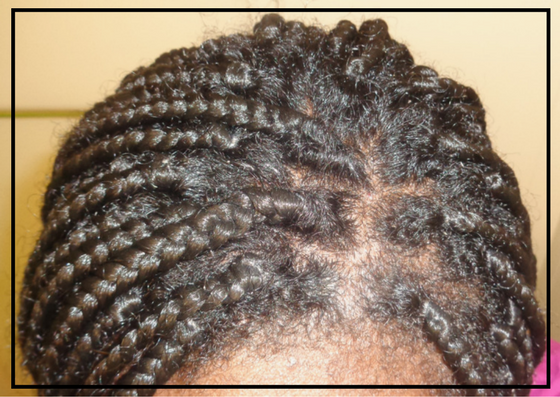 As you can see from the picture above, the scalp is very clean especially at the roots where the braids meets my own hair very close to the scalp. I washed my hair and braids using method two and it worked perfectly for me. I usually prefer to wash my hair while I am taking a shower because I find that it is very convenient. You can schedule time to do this on the weekend. It doesn't take a lot of time and you will actually feel that your hair is a lot fresher this way because the entire strands of your extensions are getting washed in the lather from the shampoo. Don't worry about your braids getting frizzy. OGX Shea Soft and Smooth is carefully blended to give you moisture and smoothness without the frizz!
Here, the braids are glistening under the camera's flash but I haven't even applied any oil sheen to them yet. That just goes to show you how the shampoo and conditioner really kept the braids clean, neat and frizz free – all after about one month of putting them in, which is quite a long time for your braids to go unwashed. So, I am glad I got to washing them right away and will continue with a bi-weekly regimen. I was really excited to have been given this opportunity to do a product review with OGX Shea Soft and Smooth. The products were gifted to me but all the opinions herein are my own based on personal experience. I will definitely be using more of this product in the future!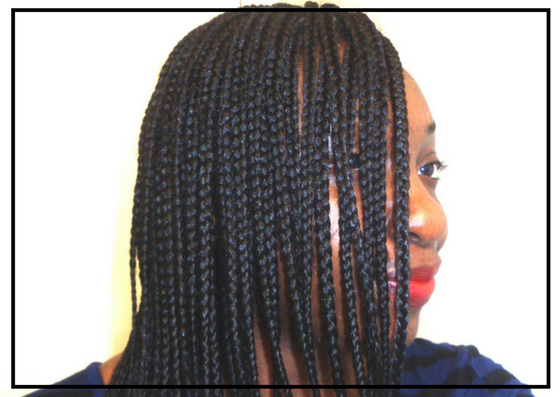 OGX Frizz-Defy/Moisture + Shea Soft & Smooth Collection includes the following ingredients:
Shea Butter, with a high concentration of natural vitamins and fatty acids to help deeply nourish
and moisturize strands from the inside out.
Agave Nectar, is know to be a natural wonder in soothing hair and helps provide moisture and lustrous shine.
Coconut Oil, naturally high in fatty acids, the formula helps increases moisture and lipid content in hair, making
for the ultimate hydration boost and re-invigorating damaged strands.
OGX Frizz-Defy/Moisture + Shea Soft & Smooth Shampoo and Conditioner are available for $10.99 each at
Walmart, Shoppers Drug Mart, Rexall, Loblaws, Jean Coutu, Uniprix, London Drugs, Lawton Drugs and other
major retailers.
OGX is for those who aspire to make better choices and are aware of the integrity of ingredients. The salon-inspired formulas are paraben and SLS-free, and use exotic active ingredients for an indulgent experience that invigorates the senses. OGX products are not tested on animals and are packaged in eco-friendly bottles manufactured from materials containing recycled post-consumer resin.
** Disclosure: This blog accepts product samples for reviews.
Did you enjoy this post? Then SUBSCRIBE HERE to be in the know of my other posts!
How often do you wash your hair/braids? Share your washing regimen with me!